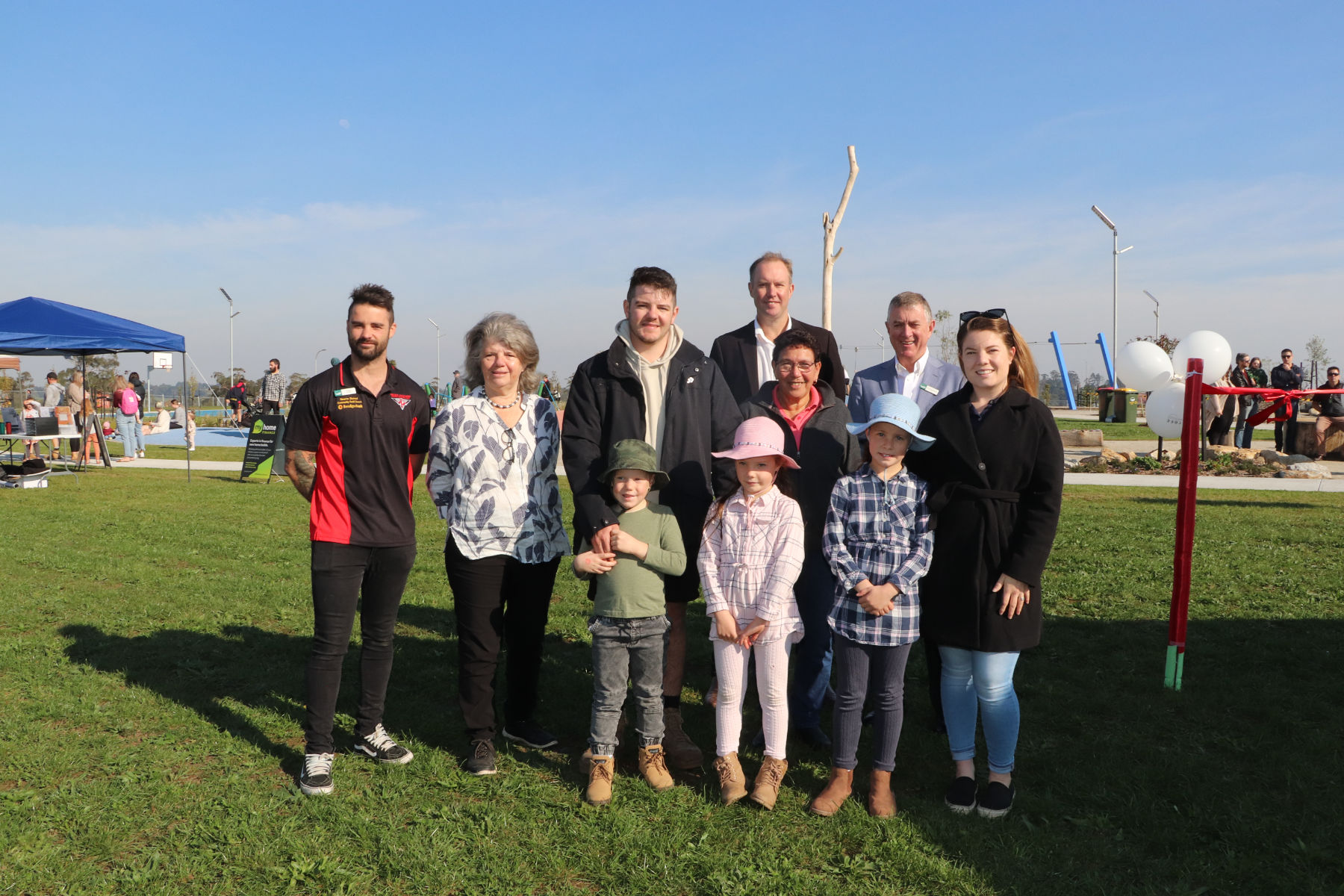 Ferntree Park Grand Opening Celebration
A fantastic day was had by all at the Ferntree Park Grand Opening last weekend. Hundreds of local families, young couples and local residents turned out to celebrate Drouin's newest park.
The official opening ceremony commenced with a Welcome to Country delivered by Kurnai Elder, Aunty Cheryl Drayton, followed by comments from LandGipps Managing Director David Sowerby and Baw Baw Shire Mayor Danny Goss. The opening concluded with a ribbon cutting officiated by Mayor Goss and Brad Dixon, on behalf of the Seebeck family. Afterwards, local comedic musician Adrian Darakai entertained the crowd with his locally inspired hit "Kicking back at Ferntree".
To celebrate the opening, LandGipps provided free popcorn, fairy floss and snow cones to very excited kids, as well as face-painting and balloon twisting. Children also enjoyed the footy skills workshop and took park in a treasure hunt through the extensive new park, searching for hidden LandGipps lolly bags! Meanwhile, parents were able to relax with a cuppa and enjoy the live music played by Jo's Acoustic Music.
The fundraising BBQ for the local Drouin Lion's club was a huge success with many supporting the club and enjoying an irresistible Saturday morning snag.
The unpredictable Autumn weather kindly treated us to an incredible sunny morning to enjoy the open spaces, adventure playground, picnic areas and extensive seating for parents to watch the kids explore and burn off steam. Hundreds of kids excitedly explored the park and tried out the new adventure style playground. It was also great to see children bringing along their scooters and pushies to try out the bike path. The basketball court was thoroughly enjoyed by the older kids, with smaller children enthralled by the sand pit and the double flying fox a hit for all ages.
Many of our partner builders in the Ferntree Display village got involved in the celebrations, with Metricon, Beechwood and JG King busy with giveaways and promotions. At the park, SJD, Homebuyers Group and Boutique Homes provided special treats for kids and grown ups!
The Display Village was also a popular attraction, and many popped in to view the stunning new homes on offer. With 19 display homes to explore, Gippsland's largest display village makes it so easy to find your new dream home.
Thank you to all that came along to celebrate the opening of Drouin's brand new playground and outdoor space. We are super proud to deliver this incredible asset to the community and hope it is enjoyed for many years to come.
Photos courtesy of Warragul & Drouin Gazette.