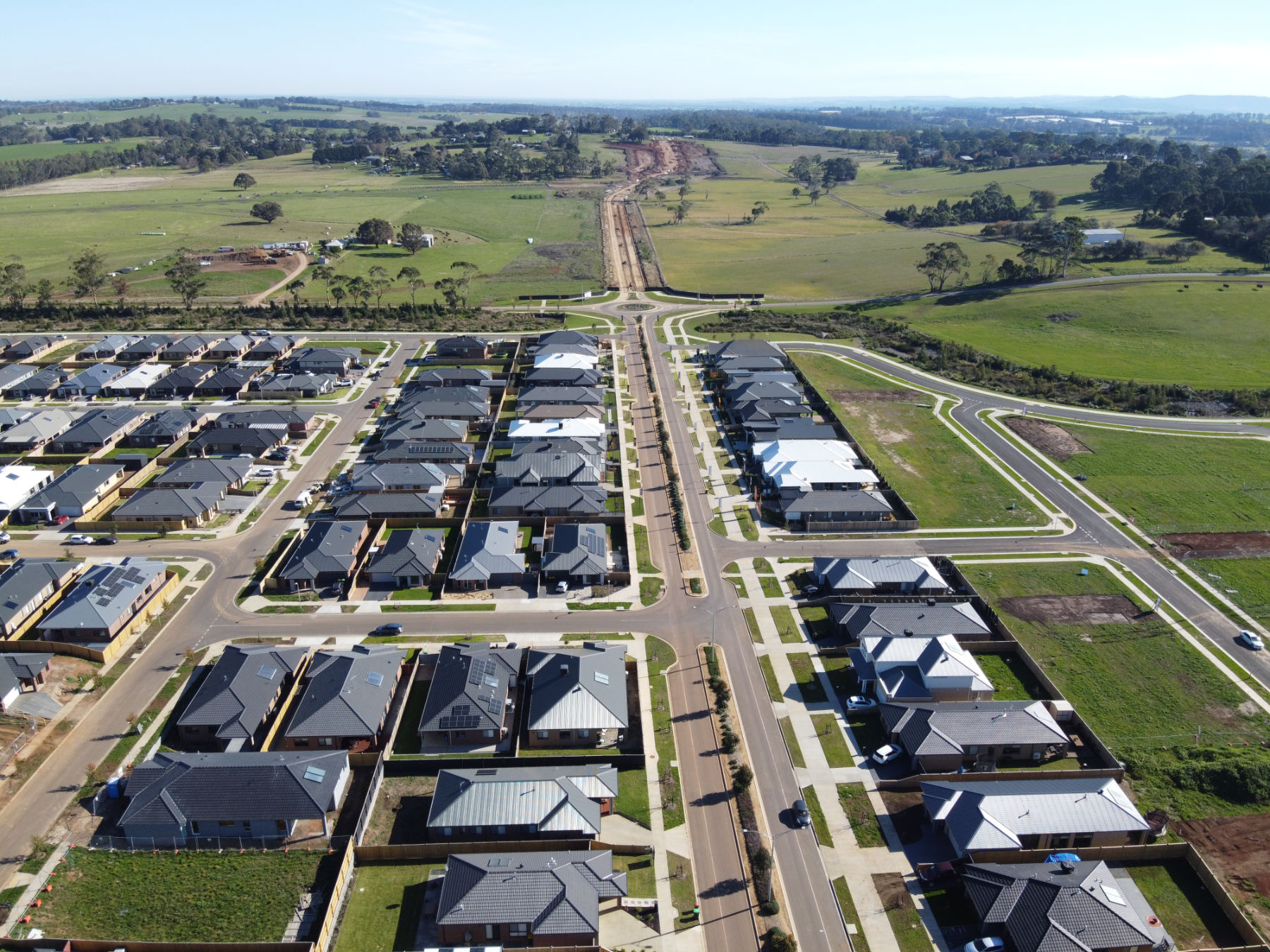 August Update
LandGipps is pleased to present the latest community and construction update for Ferntree Ridge. With each update, we hope to keep our growing community informed and up to date with the progress of the development and give you some insight into the design and construction process.
Stage by stage, we are seeing Drouin's most comprehensive community take shape. With future Catholic and government schools, a community shopping hub and a range of outdoor spaces all included in the Masterplan, Ferntree Ridge is fast becoming a sought-after community within West Gippsland.
Stage 8
In our last update we celebrated the issue of all titles in Stage 8 and it has been fantastic to see all the beautiful new homes popping up. We hope the Stage 8 residents who have already joined the community have had a chance to meet their neighbours, settle in and make use of the incredible stage seven park to get some fresh air during lockdown.
We are currently working with council to organise the tree planting for Stage 8. This will see the streetscape transformed with the addition of Wallangarra White Gums, Trident Maples and Ornamental Pears. We are hoping to have these planted out for the spring to take advantage of the prime growing weather.
Stage 9
We look forward to stage nine purchasers commencing construction on their new homes in the coming months, with this stage nearing completion. This stage looks fantastic, and we can confirm that the final phase of works have now been scheduled, with road surfacing to commence in early September and practical complete due towards the end of September.
We are still awaiting updated engineering plans for stage 9 for you to be able to provide to your builder. This is as-constructed engineering plans, which requires the finalisation of the construction of the retaining walls before this can be provided. We are hoping to have this available within the next week and this will be emailed through as soon as it becomes available.
We are hoping to be able to start booking in settlements for mid November 2021. We will be advised by the construction team as to when we are able to allow access for builder soil tests, how the site can be accessed to have these completed.
Stage 10
Progress on stage ten is moving along, with essential underground works nearing completion. We expect drainage and sewage installation to be completed in the coming week. We can then look forward to the commencement of block surfacing works and should begin to see the stage taking shape. Stage 10 construction and completion also involves the construction of Illawarra Boulevard and the new Main South Road roundabout. Although there have been set backs due to unexpected complexities of the road construction, exacerbated with wet weather, a substantial portion of kerbing, drainage and other service works has already been installed. We expect Illawarra Boulevard to be open to traffic in the next few weeks, after which we will continue the works on Stage 10.
As construction continues to move forward on schedule we are hoping to have titles March 2022.
New Park Construction
At this time, we'd love to share some additional information about the construction of the soon-to-commence stage 10 Park. The second park to be established in the community has been designed to meet the needs of our pet-friendly community, with the provision of an off-leash dog park. The park will feature a dog enclosure to allow your furry family-members to exercise and socialise safely. The stunning circular design will also feature facilities for the humankind, with drinking taps, swings and ample seating. The landscaped park, will be continue the botanical theme of Ferntree Ridge, featuring carefully curated plant selection to maintain the natural aesthetic of the development. Those plans are currently with the Council for approval.
Ferntree Ridge 2nd Display Village
We can advise that construction is well underway on the new display village land, which is set to open in 2022. The new village will be located on the Main South Road end of the development, with access available via the newly constructed Main South Road roundabout. We look forward to the opening of the Ferntree Ridge main entrance and Illawarra Boulevard. Builders are hoping to be able to start construction of their new display homes in the new year with a Display Village Opening pencilled in for Spring 2022.
Footpath Update
Finally, to address concerns raised by many residents, we would like to provide further information on the construction of the footpath connecting Weebar Road to Ferntree Ridge. Originally, the delivery of the path was planned to take place further down the track, however we are responding to requests to bring this forward. We are currently working with authorities to gain the necessary permits to include the path construction at an earlier time or stage, however at this time we are not able to provide a start date for construction, as we cannot move forward until the relevant permits are issued. The path cannot be constructed as a stand-alone-project, as the permit process requires that it is attached to a stage of construction. Rest assured, that the construction of the path has been made a priority and we are doing everything we can to improve access for our residents as quickly as possible by including it in an earlier stage.
Upcoming Land Release
Stay tuned for information about the next land release in our next newsletter. Family and friends interested in buying land at Ferntree? Make sure they subscribe to our mailing list to be the first to hear about the upcoming release. Register Here.
Key Dates and Information
Stages 1 – 8

SOLD OUT

Stage 9

SOLD OUT – Construction nearing completion and expecting titles November 2021

Stage 10

SOLD OUT – Construction continues and is now on track for titles March 2022

Stage 10 Park

Construction to commence in coming weeks

NEW Display Village

Construction under-way, Spring 2022 Opening

Halloween 2021

LandGipps is looking forward to bringing Halloween to Ferntree Ridge in 2021, following the fantastic success of our community event last year. We will be awaiting news on COVID restrictions and lockdowns before confirming any details.